September 7, 2009
The Great North American Loudspeaker Tour: EgglestonWorks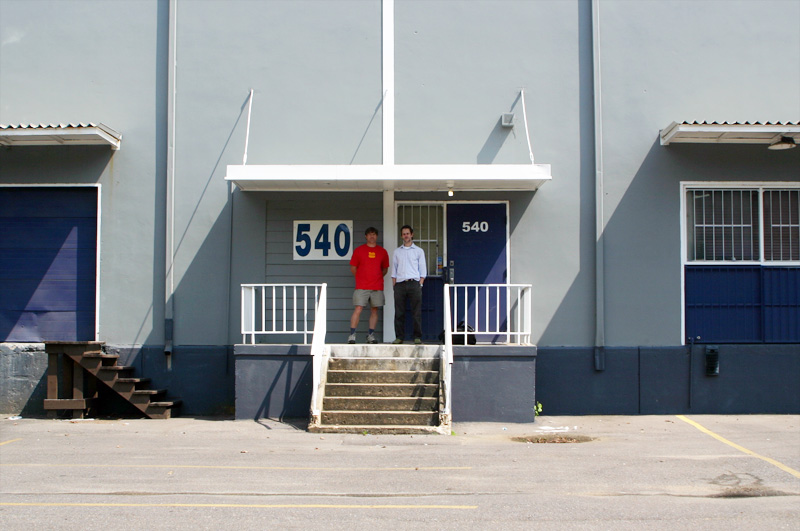 The EgglestonWorks facility in Memphis, Tennessee, USA, with the company's co-owners, Jim Thompson (right) and John Callery.
Main designer: Jim Thompson
Product auditioned: Ivy Signature loudspeaker ($110,000 USD per pair)
Associated Equipment
Amplifier: Krell FPB-600
Preamplifier: Bel Canto S300i integrated amplifier (preamp section only)
Sources: Marantz DV8400 DVD player, Bel Canto S300i integrated amplifier (DAC section only)
Cables: Transparent Audio
Racks: Grand Prix Audio
Setup details: The Ivy Signature was single-wired and toed-in to point almost directly at the listening position. I listened to the loudspeakers both seated and standing, the latter because the Ivy was originally designed to be used in Bob Ludwig's Gateway Mastering facility, with Ludwig standing in front of the speakers at his mixing board; I wanted to replicate that experience.
Listening room: EgglestonWorks' factory listening room is 34'L x 18'W x 10'H, with Echo Busters wall treatments used throughout. The walls are built of 2" x 6" studs with double layers of Sheetrock on both the interior and exterior, for a total of four layers per wall. The floor is suspended on rubber gaskets to decouple the room from the surrounding manufacturing and busy city environments.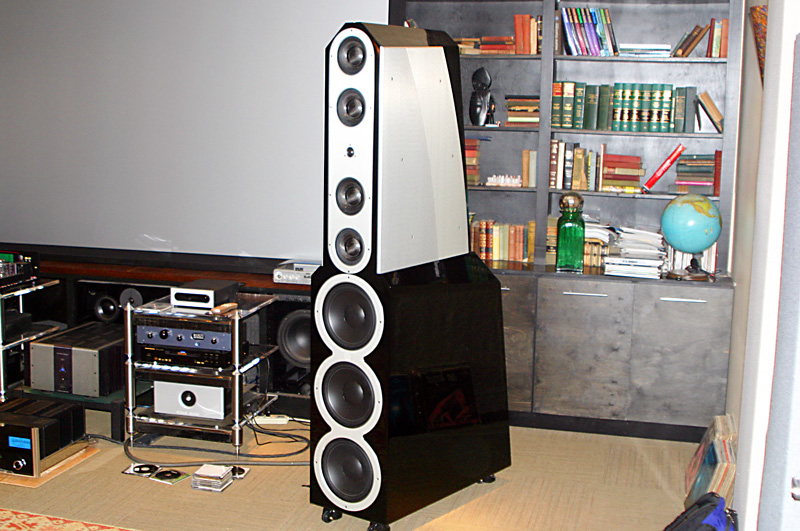 The Ivy Signature set up in EgglestonWorks' factory listening room.
Jim Thompson's vision for the Ivy Signature: The Ivy was originally designed to serve "dual roles": first, as a mastering tool for Bob Ludwig of Gateway Mastering, for whom it was conceived as the "ultimate mastering monitor"; and second, as EgglestonWorks' "flagship product that would get people interested in high-end audio." The Signature is an upgrade of the original Ivy, which was introduced over 12 years ago. The main changes incorporated into the Signature include new 6" carbon-fiber Morel midrange drivers and a new crossover network. There are also new cosmetics: aluminum front and side panels are now bolted over the finish of automotive-grade paint.
According to Jim Thompson, the Ivy Signature is best suited to: "Music lovers with large spaces and good equipment." In fact, the listening space's size and construction must be seriously considered, because the Ivy Signature is not modular: its one-piece, 800-pound mass will be quite a challenge to move into many rooms.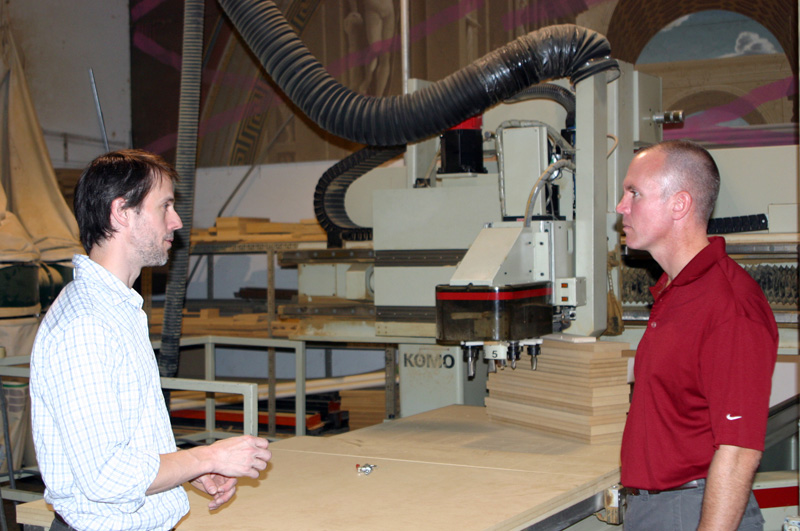 Jim Thompson (left) explains to Jeff that all EgglestonWorks speakers are manufactured in-house using CNC machinery.
Listening impressions
I listened to multiple rock cuts, including from groups such as Radiohead, as well as many large-scale orchestral and symphonic works, and to singers such as Alison Krauss. The larger pieces showcased the system's ability to play back grand performances with great physical impact and room-filling crescendos. I could get a real physical sense of instruments such as drum kits and horns -- the Ivy Signature could go from soft to loud instantly; I could hear no dynamic compression at all. Scale was something these speakers did with ease -- the Ivy Signatures could play loud, with nary a hint of distortion. They cleanly rendered soundstages, and the images within those stages were of proper size. In fact, I found it easy to map the soundstage from right to left and from front to back.
Singers had a warmish character that lent them an outstanding sense of presence, and made them sound as if they were in the room; the outlines of performers were never thin or void of character -- the fact that the tracks I listened to were all generally well recorded came easily through this system, which was big and bold in physical presence. Nor were the Ivy Signatures ever fatiguing. I could settle back in my seat and listen to them at length, enjoying a sound that was high in drama while low in apparent distortion and cabinet-related artifacts.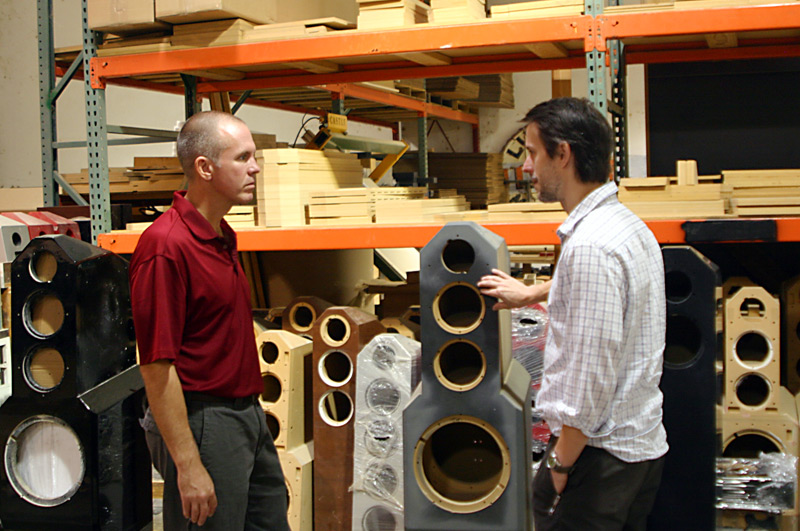 Jim Thompson shows off the company's well-known Andra III speaker. Jeff Fritz, a stickler for the details of fit'n'finish, feels that EgglestonWorks speakers are well-made.
Company impressions
EgglestonWorks puts considerable resources into building robust cabinets that contribute to the speakers' sound very little character of their own. They also put great value on service, with a six-year, transferable warranty. In fact, I was told that they'd just finished servicing the woofers on serial numbers 1 and 2 of their very first product, the Andra. That's very impressive to me, and should be strongly considered a strength if you're considering purchasing an EgglestonWorks product, whether new or used. According to Jim Thompson, the "company cares about delivering music and a quality product," and the atmosphere of the factory is "laid-back" and friendly. I was also impressed that EgglestonWorks measures their speakers in the anechoic chamber of Ole Miss University's Center for Physical Acoustics.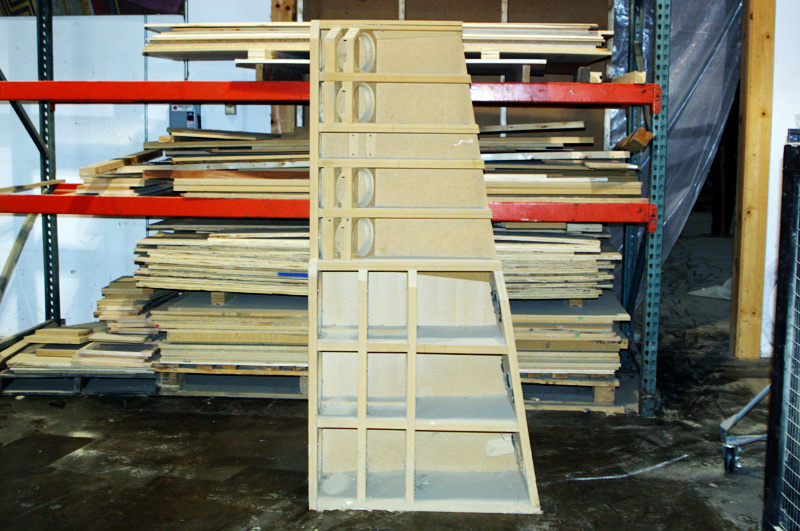 This side shot of an Ivy Signature in mid-production shows the cabinet's complex internal construction.
Conclusion
Somewhat quietly, EgglestonWorks has been producing high-end loudspeakers for many years. Although their recent low profile has led some to wonder just what the company is up to these days, I can happily report that I saw lots of cabinets under construction, and speakers in all stages of assembly. Their newest iteration of the Ivy, the Signature, is an impressive statement loudspeaker, and it's fitting that it's made in Memphis, a city with such a rich musical heritage. After all, the Ivy itself has quite a history -- one that looks as if it will continue for many years to come.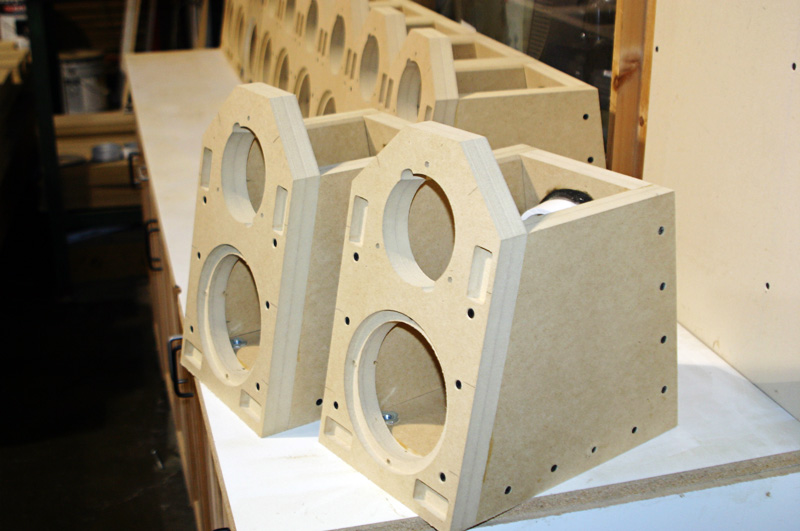 The Ivy Signature is EgglestonWorks' largest speaker; their smallest model, the two-way Isabel, is seen here in production.
. . . Jeff Fritz
jeff@ultraaudio.com