September 3, 2009
The Great North American Loudspeaker Tour: Verity Audio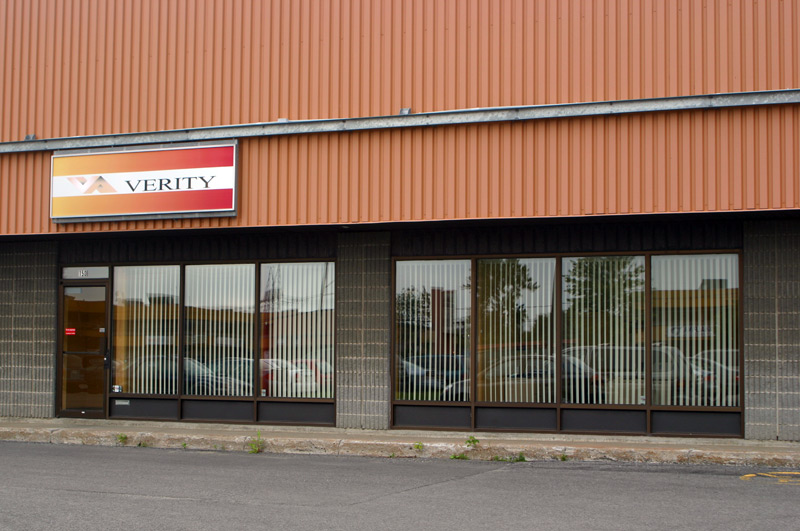 The entrance of the Verity Audio factory in Quebec City, Canada.
Main designers: Bruno Bouchard and Julien Pelchat
Product auditioned: Lohengrin II loudspeaker ($80,000 USD per pair in piano black; optional painted and wood-veneer finishes are available at extra cost)
Associated Equipment
Amplifiers (all monoblocks): Wavac HE-833 Ver1.3, Nagra VPA, Tenor 350M
Preamplifier: Nagra PL-L
Sources: dCS Scarlatti SACD/CD transport, Scarlatti Master Clock, Scarlatti DAC; Nagra DII digital tape recorder
Cables: Nordost
Power conditioner: Vibex
Setup details: The Tenor (350W), Wavac (150W), and Nagra (50W) amplifiers were used in succession to illustrate how the 95dB-sensitive Lohengrin IIs sounded with amplifiers of various power outputs.
Listening room: Verity Audio's listening room is 30'L x 18'W x 11'H, with polycylindrical diffusers hung from the ceiling on short chains, as well as many bass traps and wall panels from Echo Busters. Large record shelves line the room's rear wall; equipment is placed on short racks in front of the listening seats, within arm's reach.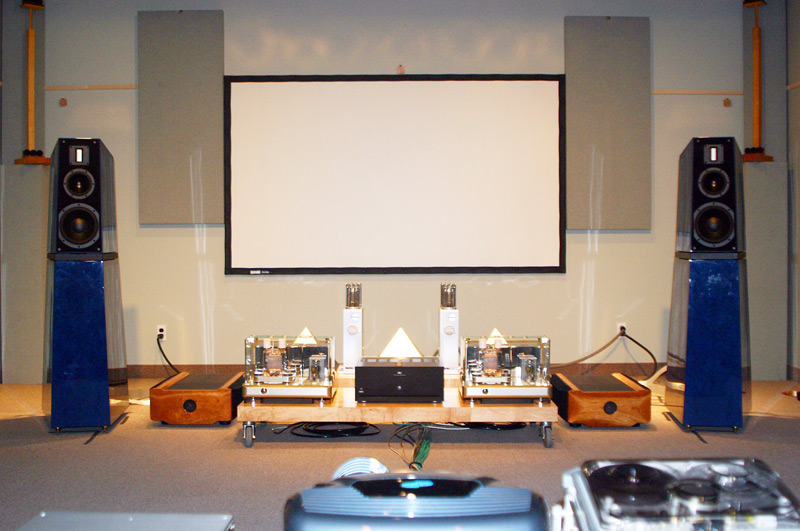 The Lohengrin II loudspeakers, finished in blue, set up in Verity Audio's factory listening room.
Julien Pelchat and Bruno Bouchard's vision for the Lohengrin II: The Lohengrin II should have "deep bass extension," "high sensitivity," and "wide bandwidth" that extends as high as 100kHz. It should be a speaker that can fill a much larger room than, say, their smaller Parsifal model. Verity "re-optimized every aspect of design" of the original Lohengrin to come up with the II, including replacing the Raven ribbon tweeter with a model they make in-house.
According to Julien Pelchat and Bruno Bouchard, the Lohengrin II is most suited to: The Lohengrin II is designed for real-world environments -- i.e., the actual homes of end users. Therefore, it was important that the speaker be "easy to place," and that it "work with the room, not against it." Although the Lohengrin can overload a small room with too much bass, it is very flexible in terms of setup, and doesn't need massive amounts of power to be driven to realistic output levels.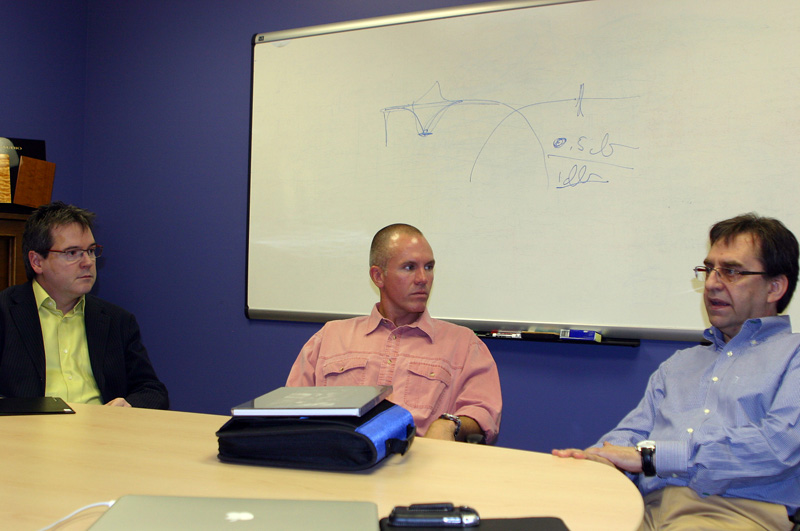 Bruno Bouchard (left) and Julien Pelchat (right) start the day by talking with Jeff Fritz about the main design goals by which they guide Verity Audio.
Listening impressions
Musical selections included cuts from Jeff Beck and Chick Corea (24-bit/96kHz master tapes played on the Nagra DII) to CD tracks from Peter Gabriel, Diana Krall, Loreena McKennitt, Jeff Buckley, Rosanne Cash, and many others.
The Lohengrin II is noted for its 95dB sensitivity rating, which indicates that the speakers come to musical life at very low listening levels without requiring a great deal of power from the amplifier. It had a unique ability to reproduce ultradetailed, full-range sound when playing almost whisper-quiet, but could also scale with the music, delivering wide dynamic range when the program material called for it. I marveled at the Lohengrin II's ability to reproduce all manner of bass instruments with fastidious articulation. Its way with bass was like a world-class sports car hugging a winding road. The highest frequencies, though not calling attention to themselves when the music was heavy in the midrange and bass, portrayed microdynamic musical shifts with tremendous subtlety. Percussion tracks had great impact in the low and midbass frequencies, but Verity's proprietary ribbon tweeter was both extended and delicate, portraying the minute dynamic shifts of cymbals with precision and spot-on tonality.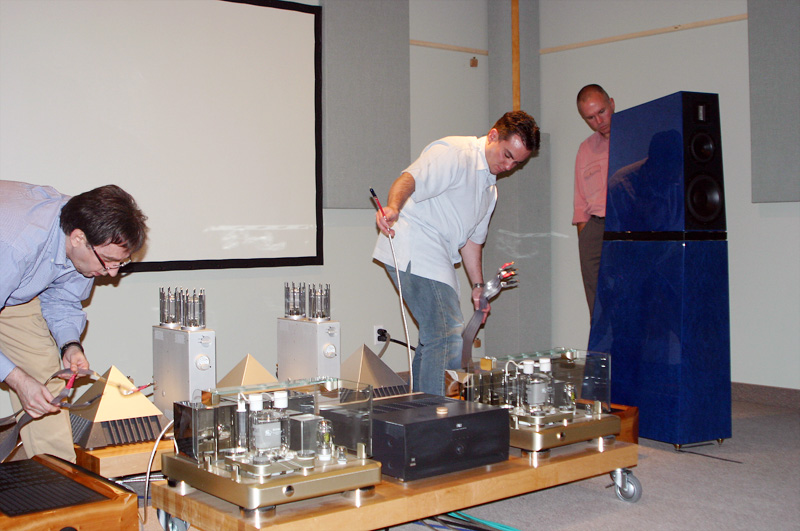 Part of the listening session was spent comparing the sound using various amps that Verity keeps on hand at the factory. John Quick (center), Verity's US sales rep, helped with setup.
The ability to play small-scale music and subtle arrangements was equaled by the Lohengrin II's ability to reproduce larger-scale recordings with huge dynamic swings. The chorus on Marianne Mellnäs's performance of "O Holy Night," from Cantate Domino (SACD/CD, Proprius PRSACD 7762), swelled in the Verity listening room, easily extending in width from one sidewall to the other when, shortly into the song, Mellnäs is joined by the chorus. The soundstage depth was equally impressive, the singers layered deeply and with proper height. The bass response was sufficiently deep to re-create a tremendous sense of space with this track, capturing the recording venue easily.
The 24/96 tracks played back on the Nagra DII were breathtaking. The Lohengrin IIs seemed right at home reproducing this greater-than-CD-resolution material. The ribbon tweeter, particularly, could display fine detail with tremendous ease and transparency. A master tape of Jeff Beck playing guitar at the Montreux Jazz Festival was reproduced with a huge dose of clarity and dynamic scaling that made it sound very close to real life.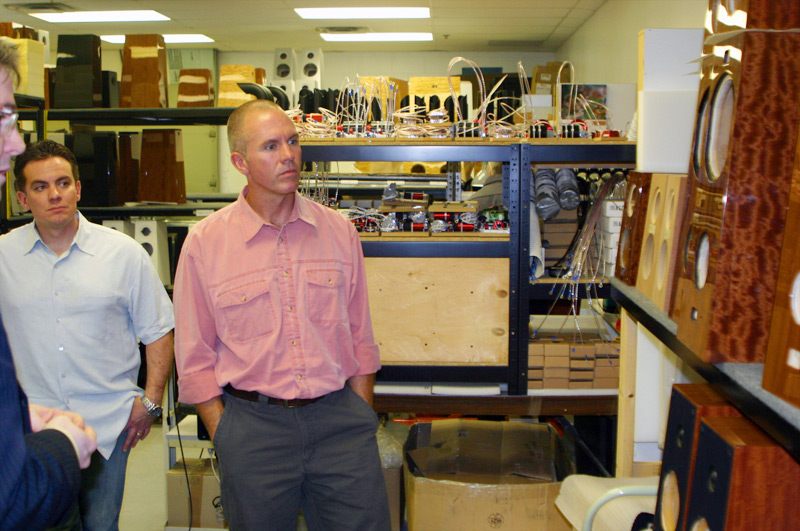 Verity Audio takes great pride in the quality of its cabinetry and the aesthetic appeal of each loudspeaker.
Company impressions
Bruno Bouchard and Julien Pelchat have very specific sonic goals for their products, and appear to have a deep understanding of loudspeaker design that does not keep them from questioning established audio principles at every turn. Although they cut against the grain in terms of some of their design choices -- such as running their midrange drivers up to 4.5kHz to 6.5kHz, depending on the speaker model -- they make such choices knowing full well how they will impact both the measured responses of their loudspeakers and the listening experience. Keeping the crossover points out of the critical midrange and keeping the speakers very sensitive are two things that create the trademark Verity sound, which has garnered a loyal following of customers around the world.

Julien explains what they look for in the drivers they select for each speaker design.
Conclusion
Companies that have a clear vision of the product they want to make before they set out to design, manufacture, and market it are typically tightly focused and goal-oriented. Verity Audio has built a line of loudspeakers that all share a unique family resemblance in terms of sound, appearance, and technical design. Each model is rightly considered compact in size and elegant in appearance when compared with most other competing speakers.
Lastly, the company's principals share a deep passion and respect for music that are clearly reflected in their products, and our many hours of listening didn't comprise a typical audio demonstration. Julien Pelchat and Bruno Bouchard reveled in and marveled at the music their Lohengrin IIs were making, and so did I -- until that wonderful day ended, and I was off to the airport again.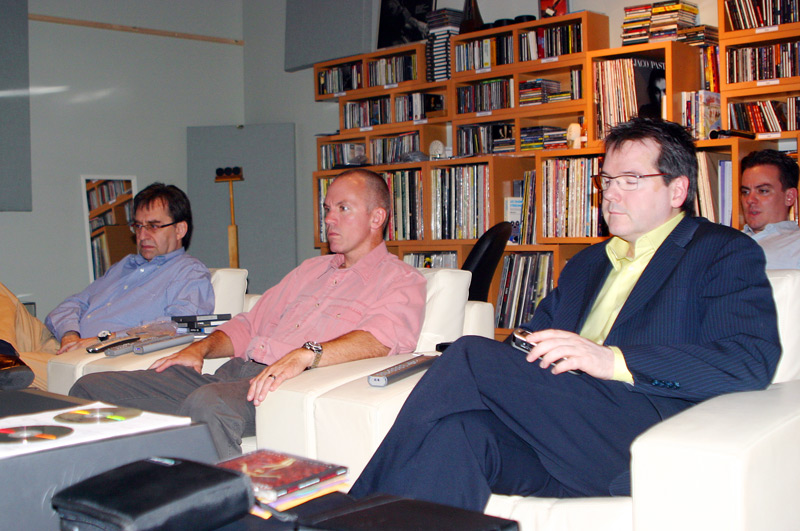 Although measurements and technical proficiency are key factors when Verity Audio creates a loudspeaker, the final product is shaped by the designers' listening experience.
. . . Jeff Fritz
jeff@ultraaudio.com